Sliding Bearings Advantages Over Roller Bearings
Customers are always seeking superior bearing for renewable energy, reason because in some cases the machineries are having a design life span of approximately 20 years, and in addition to that repairing parts are not easier in these applications because in some of the case bearings are located several meters above the ground level, moreover extended period breakdown can cause huge losses & discomfort. For this reason bearing design & structure play an important & vital role over these applications.
Solutions offered by GBT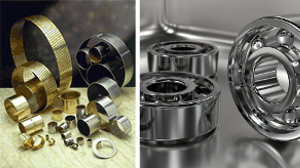 In GBT we are continuously working on the tribological aspect of the 'sliding bearings' and making them so efficient that it can replace 'Roller bearings' easily, We use advanced computer designing software's with a deep knowledge of materials and processing parameters to design a Cost effective and world class Sliding Bearings. In addition to that, GBT is having full fledge wear test laboratory for testing & evaluation, which can perform the test at a level to have reliable practical results about the life span of the sliding bearings. For all the above, GBT has top class ability among sliding bearing manufacturers, and the company continues to respond to the expectations of the customers by ensuring the proper replacement of Roller Bearings through its vast knowledge.
GBT designed and developed sliding bearings are having many advantages and benefits over the rolling bearings and therefore are very well-suited into numerous of applications. These materials are MU, MU-B, MU-4, MX.
Additional advantages of GBT sliding bearings
Less costlier
Easy to install and easy to do maintenance
Minimal space requirement
Low weight due to compact construction
High durability
Good resistance to impacts, shocks and vibrations
Tolerant to soiling, therefore lower sealing effort required
Very well suited for hydrodynamics & high-speed applications
Suitable for rotational, oscillating and linear motions applications
High corrosion resistant
Wide operating temperature range i.e. –200 °C to +280 °C
Low friction factor from 0.02 to 0.20
Special shapes and special dimensions can be designed on customer demand
Minimized wear and excellent service life
Good chemical strength
Good abrasion resistance