GBT has developed a wide range of sliding bearings for the oil & gas industry since it first started its operations. These sliding bearings offer increased performance, are highly reliable and have longer maintenance intervals, essential characteristics which are supporting this industry in their mission to develop safe, fast and reliable products.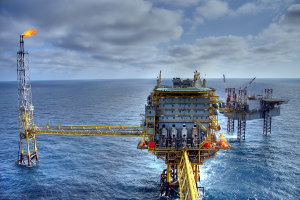 Bimetallic corrosion has been a primus problem in Oil & Gas industry. Despite extensive research in this field technicians are still searching to develop superior type of materials which can be used in harsh environmental conditions to withstand corrosion problems. Bimetallic corrosion occurs when two metals with different potentials are in electrical contact, while immersed in an electrically conducting corrosive liquid. As the metals have different natural potentials in the liquid, a current will flow from the anode (more electronegative) metal to the cathode (more electropositive), which will increase the corrosion on the anode.
Researchers for the oil and gas industry are seeking to develop sliding bearings which are capable to withstand this bimetallic corrosion, besides of being maintenance free and having a low coefficient of friction.
Solutions offered by GBT:
In GBT we like to face these challenges and our R&D team is putting all their effort in developing the best solutions for the oil and gas industry.
As a result GBT has already developed a complete range of suitable materials and has become one of the prime suppliers to sell huge numbers of sliding bearings and thrust washers, which can easily withstand bimetallic corrosion.
Our sliding bearing material is capable of bearing a high load and offer maximum resistance to corrosion. The metal backing + PTFE & Duritex treated layer are developed to work with static and semi static application, where a very high resistance to chemical acid, alcohol aggressions and oxidation is needed.
Series of backing material available with PTFE & Duritex treated layer as per customer requirement and valve body are: CS, SS 304, SS 316 L, F 51, Inconel 625 , etc.
Additional advantages of GBT sliding bearings:
Good load capacity
Self lubricating
Low static and dynamic fiction factor
Minimum wear and excellent life services
Easy mounting
High chemical inertia and good compatibility with fluids
Small overall dimensions
Height resistance to corrosion
Wide range of service temperature