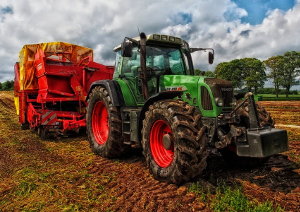 At GBT we understand that agricultural applications face considerable challenges for all mechanical components. Sliding bearings need to cope with contamination, moisture, vibration and shock loads. These are some of the factors which are directly connected to the performance and operating life of the sliding bearings. As one of the world's leading sliding bearing manufacturers, GBT knows who to deal with these challenges. In addition to a wide range of standard components, the company strong research & development team, which is highly knowledgeable and flexible has designed special sliding bearing material for such applications. GBT is always ready to provide any customized solutions to its clients.
Mechanical components of agricultural applications need to be highly efficient, reliable and with a long operating life cycle, qualities that also the placed sliding bearings need to have. In response to such demands GBT delivers highly functional bearings which can easily meet these requirements.
Solutions offered by GBT:
GBT has devolved a complete range of sliding bearings which can easily fit into these applications to provide 'Longer Service Life'. Our sliding bearings can be used in any environmental condition such as during heavy rain, extremely hot weather and in extreme dusty conditions, providing reliability and productivity during the entire operating life.
GBT sliding bearing material which can be used for these applications are for example MU, MX, BRM, BMT & Plastic Polymers bushings.

Additional advantages of GBT sliding bearings:
Longer service life
Easy installation and maintenance
High load capacity
Very compact dimensions
High thermal conductibility
Wide range of working temperature
Insensitivity to edge loading and misalignment
Special items can be designed on customer demand